The credit crunch has so far had little impact on the attractiveness of renewable energy as an investment, according to Ernst & Young.
From March 2007 to June 2008, the Wilderhill Clean Energy Index [NEX] rose by 17%, compared with an 11% decline for the FTSE index. The solar sector has shown a rise of 56% during the period, while wind companies fell 7% and biomass stocks were down by 34% on average.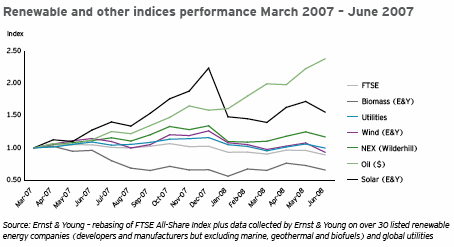 E&Y said the impact of rising oil costs is having a mixed effect on renewables.
On one side, fossil fuel costs are rising, making renewable energy more competitive; with the appeal of 'free' energy inputs (wind, solar or marine) gaining greater exposure. Conversely rising energy costs are putting pressure on governments to consider the cost of renewables – and its impact on the fuel poor in particular.  The recent rise in oil prices has yet to factor into renewable equity prices.
China has displaced the UK in the top five countries in the Ernst & Young renewable energy country attractiveness indices for Q1 and Q2 2008. This is in spite of the UK's renewable energy strategy proposals, which are yet to be translated into tangible benefit to the industry.
The US retains the top position despite there being no sign of a long-term support framework for the industry. Germany and India retain their second and third positions.
Tags:
ernst & young
,
renewable energy
,
Solar
If you enjoyed this post, please consider to leave a comment or subscribe to the feed and get future articles delivered to your feed reader.
Comments